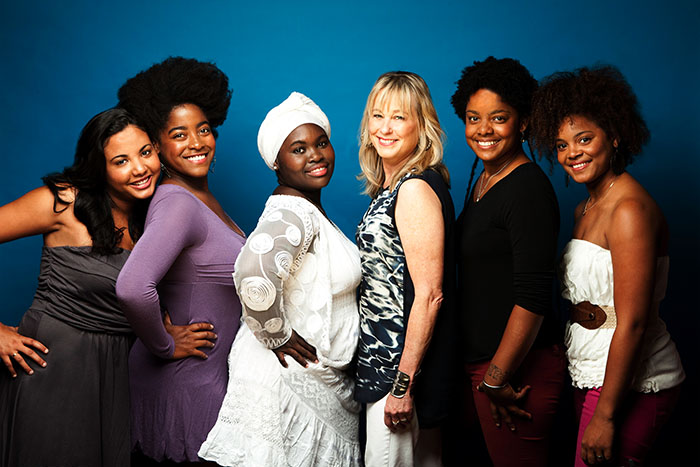 Jane Bunnett Forms Exhilarating New All Female band, Maqueque, Blending Afro-Cuban, Soul and Jazz – Self-Titled Release Available in United States on September 9 via Justin Time Records
"…Bunnett integrates her flute and soprano sax into the Cubans' music, giving us the best of the past and the contemporary." – JazzTimes
For more than thirty years, Canadian flutist and saxophonist Jane Bunnett has been bridging the gulf between Cuba and North America, introducing jazz audiences to some of the finest musicians that the island has to offer. Through her longstanding ensemble Spirits of Havana, Bunnett has provided early opportunities to such future greats as Dafnis Prieto, Yosvany Terry, Pedrito Martínez, and David Virelles, and also becoming a Canadian national treasure as well as an internationally acclaimed jazz artist in the process. Now, with her new sextet Maqueque, she introduces the world to some of Cuba's most promising female musicians, injecting her own music with an invigorating dose of youthful energy in the process.
On their self-titled debut, Maqueque blends scintillating Afro-Cuban rhythms, folkloric influences, exhilarating jazz, and soulful vocals into an utterly intoxicating blend. Vocalist Daymé Arocena, percussionist Magdelys Savigne, drummer Yissy García, bassist and tres guitarist Yusa, pianist Dánae Olano, and bassist Célia Jiménez join the four-time JUNO Award winner, two-time Grammy® Award-nominee, and Officer of the Order of Canada to create a dynamic and hard-driving sound that should suffice to silent any doubts from the boys' clubs of jazz or Cuban music.
The band's name was provided by Arocena's grandmother, a practitioner of the Afro-Cuban Yorùbá religion. It translates to "the spirit of a young girl," which perfectly captures the vibe of the group and the song that shares its name. "I imagine that's what I was like as a ten-year-old girl," Bunnett says. "I was very energetic, I could be sweet and I could be feisty. That's Maqueque."
Over her decades of visits to Cuba, Bunnett observed that almost 75% of the students in the country's many conservatories were female, but the jam sessions that she attended at night would be almost exclusively male. "When they finish all their training, you don't see them out on the scene," Bunnett says. "At jam sessions, I would notice some of the young girls I had seen at the schools just sitting on the sidelines, happy to watch their boyfriends up there playing. It seemed really strange."
She didn't set out to form an all-female band, but the seeds were planted when Bunnett and her husband, trumpeter Larry Cramer, met Arocena during a trip to Havana with Toronto radio station JAZZ.FM91′s Jazz Safari program. "I organized a private jam session in the hotel for the Safari folks and invited a few of the Cuban artists from the jazz festival to come and play with me," Bunnett recalls. "I met Daymé in the lobby and she said she was a singer, so I asked her to come. She jumped in and her vocal ability was way beyond her years. She has this very old-soul voice for this young person. It's really unusual and very powerful."
That voice stuck in Bunnett's mind. A few months later, she was asked to serve as artistic director for "Funny Girls and Dynamic Divas," an annual fundraising event for Sistering, a Toronto-based social service agency for women. She brought Arocena to Toronto to perform for the occasion and the singer, Bunnett says, "brought the house down."
The response that day planted the seed for Maqueque. Bunnett and Cramer joined Arocena in Cuba to scout for talent, and ended up with the group of women who now make up the sextet, most of them in the early 20s and in the earliest stages of what promise to be fruitful careers. Yusa is slightly older and is an in-demand player in both Cuba and Argentina, while García, only in her mid-20s, is already a well-known figure in the Cuban music scene and has worked with such renowned artists as David Sanborn, Omara Portuondo, Horacio "El Negro" Hernandez, Giovanni Hidalgo, and Roy Hargrove.
The all-female line-up provides the band with a unique energy, Bunnett says. "There's a very happy energy about it," she describes. "All of the women are very supportive of each other.  I've seen a couple of all-women groups in Cuba that are geared toward tourists and can border on being pretty cheesy. What we're doing is creative and collaborative and involves a lot of the Afro-Cuban elements that stem out of traditional folkloric music."
The tempestuous "Tormenta" was inspired by an experience that Bunnett had while playing a jazz festival in Kansas, watching a tornado on the flat Midwestern horizon as she played on an aluminum stage. "New Angel" stems from a more joyous place, with a celebratory, joyful chorus of voices. "Song for Haiti," originally written for a benefit album for the country's earthquake victims, closes the album with a host of special guests, including Spirits of Havana alum Hilario Durán (who contributes string arrangements throughout the album) on piano, the New Orleans-style Heavyweights Brass Band, and spoken word artist Telmary Diaz.
Arocena also contributes three pieces: "Guajira," inspired by the self-sufficiency of rural Cuban farmers; "Canto a Babba," an homage to the Yorùbán deity Oba; and "De la Habana de Canada," a cha cha relating her unusual journey. The album also includes a moving, intimately soulful rendition of Bill Withers' classic "Ain't No Sunshine" sung by Arocena and Yusa, and an eccentrically grooving take on 1940s Cuban pianist Pedro Peruchin's "Mamey Colorao."
Bunnett wrote most of the music for the album in the central Ontario cabin built by her grandfather, a refuge surrounded by the sights and sounds of nature. Those elements directly influenced the disc's opening track, "Papineau," named for a nearby waterfall. But the music was work-shopped by the group in Cuba, adding a lively Cuban chant far removed from water crashing on rocks in the Great White North.
That sort of collaboration is what excites Bunnett about the music and has kept her returning to Cuba for so many years. "One of the things that I really love about music is to collaborate with the different personalities who are out there, because everybody can always bring something very different to the table. In Cuba, there's so much music happening and a lot of the time it's of a collaborative nature; I always imagine it's like 52nd Street in its heyday," she explains. "When I go there I feel that I'm surrounded by a lot of creative energy. There's an enthusiasm about embracing the arts, and music is primary to everybody's lives there, even people who aren't musicians.
Upcoming Jane Bunnett Performances
August 3 / Jazz and Blues Fest / Erie, PA
August 10 / Litchfield Jazz Fest / Goshen Fairgrounds, CT
August 17 / Markham Jazz Festival / Markham, Ontario
September 11 / Scullers Jazz Club / Boston, MA
September 12 / The Side Door / Old Lyme, CT
September 14 / Lake George Jazz Festival / Shepard Park, NY
September 15 – 17 / Friends University / Wichita, KS
September 19 / Mount Vernon Country Club / Golden, CO
September 20 / The Blue Note Jazz Club / New York, NY
Jane Bunnett · Jane Bunnett and Maqueque
Justin Time Records · Release Date: September 9, 2014
For more information on JANE BUNNETT, please visit: JaneBunnett.com
For more information on Justin Time Records, please visit: JustinTime.com
For media information, please contact: DL Media ·  610-667-0501
Matthew Jurasek · matthew@dlmediamusic.com
Greg Angiolillo  ·  greg@dlmediamusic.com