Jane Bunnett and Maqueque – Fall 2023 Tour Dates
Sept 16 at 8pm Jazz at the Lake 2023 – Shepherd Park Amphitheater – Lake George, NY
Sept 17 at 8pm – The Cutting Room – NYC
Sept 20 at 7:30pm – Unity Church – Charlottesville, VA
Sept 21 at 8pm – Révéler – Richmond, VA
Sept 23 at 8pm – Savannah Jazz Festival – Forsyth Park – Savannah, GA
European Tour 2023 "Playing With Fire"
March 21–25 – Marian's Jazzroom – Jazz Festival Bern, Switzerland
March 28 – Jazzkeller – Frankfurt, Germany
March 29 – Café Central – Weinheim, Germany
March 30 – Theaterstuebchen – Kassel, Germany
April 01-02 – Cafe Museum – Passau, Germany
April 04 – Porgy & Bess – Vienna, Austria
Canada Tour 2023 "Playing With Fire"
April 15 @ 7pm – The Bancroft Village Playhouse Gala – Bancroft, ON
April 21 @ 8pm – Wolf Performance Hall – London Public Library – TD Sunfest Concert Series
April 27 @ 8pm – National Arts Centre – Azrieli Studio – Ottawa, ON
First US East Coast Tour 2023 "Playing With Fire"
March 2 – Blue Llama Jazz Club – Ann Arbor, MI
March 3 – Morse Recital Hall at Yale University in New Haven, CT
March 4 – Chris' Jazz Café – Philadelphia, PA
March 7-11 – Birdland Jazz Club in NYC – Five Nights at Birdland
March 12 – Greenwich Library – Greenwich, CT
March 17 – Scullers Jazz Club – Boston, MA
March 18 – The Side Door Jazz Club – Old Lyme, CT
New Album: "Playing With Fire"
To Be Recorded Sept 20-23, 2022
2020 Juno Awards Nomination
Jazz Album of the Year: Group
ON FIRM GROUND / TIERRA FIRME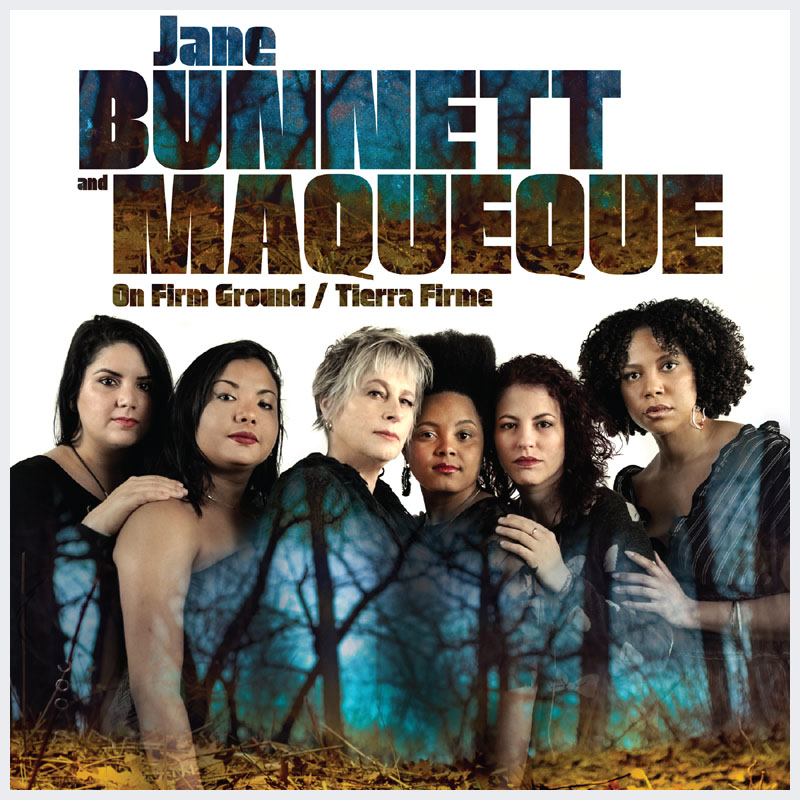 Jane Bunnett and Maqueque released On Firm Ground/Tierra Firme on September 6, 2019 via Linus Entertainment/True North Records. The Canadian bandleader helms the six-piece troupe on a dozen tracks that incorporate ideas from the Jazz world and the vast well of Cuban music.

Jane Bunnett would like to thank these organizations for their generous help with international tour support and assistance with taking this music worldwide.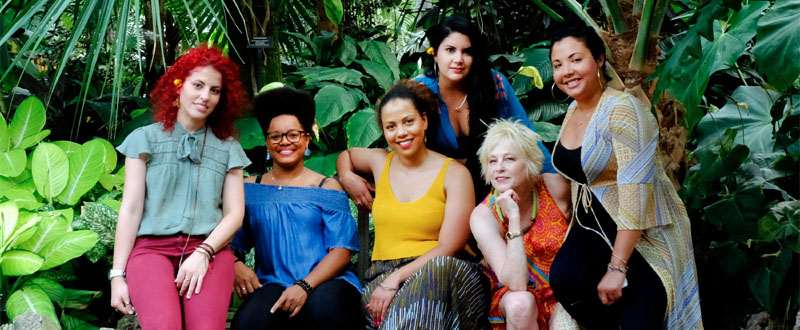 Jane Bunnett and Maqueque are (L to R): Tailin Marrero, Yissy García, Joanna Tendai Majoko, MaryPaz Fernández, Jane Bunnett, Dánae Olano. Photo by Lauren Deutsch.